We offer various holistic approached services.
We are proud to offer a wide range of comprehensive services to meet the needs of adults, seniors, and pediatric patients. Our team of professional caregivers specialize in providing personalised pain management care, rehabilitative therapy and companion assistance.
See all Services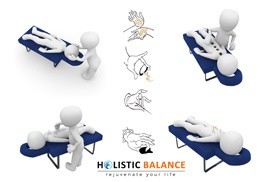 Myotherapy and remedial massage are the primary services which we offer. Along with many different techniques such as dry needling, cupping etc. Our practitioners work diligently with...
Find out More
Common conditions that can benefit from myotherapy / remedial massage treatments. Such as headache, migraine, chronic neck pain, shoulder pain. Tennis elbow, golfers elbow, sprained...
Find out More
About Us
Welcome to Holistic Balance Massage! We're dedicated to providing friendly and professional service to help you achieve the balance of mind and body with healing hands.
What's the biggest asset in your life? House? Car? Not really, it's your health! Your body needs to be looked after with regular maintenance, so get rid of the stress from your busy schedule and enjoy life thoroughly. If you feel tight, sore or pain, don't delay. A treatment of remedial massage/Myotherapy can help you ease the pain and reduce the discomfort. A pampering of facial or relaxation massage can help you unwind and relax. Everyone deserves these rewarding moments.
We are located at 363 Burwood Rd Hawthorn, easily accessible via trams and trains (Glenferrie station). There's ample parking at the back of Serpells Ln and behind Hawthorn Town Hall.
The practice offers HICAPS for immediate health fund rebates.
A very calm place with friendly people.
I Had a stiff neck and shoulders because of prolonged sitting at the work, I got them looked at by Scott. Within a day I was able to Work with lesser stress and sleep well.
Scott is very helpful in answering questions with great examples so that its easy to understand. He also takes the time to explain what exactly your muscles are going through.
It was a very good experience for my well-being.
Sankarshana Bandarupalli
Holistic Balancei had a massage here last night and i was pleasantly surprised with how professional and relaxing the environment was. Being a masseurs myself I understand the nature of the business and find it very hard to find a place that provides a great service in the correct environment. I'll definitely be back for more!

Ledia Daniel therapists are excellent. I highly recommend the remedial massage with cupping to help drain toxins from the body and release muscle tension.
Celeste Jennings
Definitely my favourite place. Cupping helped me back pains and constantly getting cold. I recommend having one session every month.

In addition, the staff is very lovely and the massage beds are very comfortable.
5/5
Mariusz Stasiak
I was referred to Dean for remedial massage to help with my long-distance running. Following an initial consultation he has made a massive difference by increasing flexibility throughout both my hip and hamstrings in just a couple of weeks. Highly recommend.
Nathan Trevitt
I've been going here for several months now and Holly and her team have been great! I have been getting their remedial massage and every time I have any pain or tension in my lower back or neck/shoulder, they are able to fix it right away. Only place I go to now, won't let anyone else near me.
Lisa Lawless